ESQUIF ADIRONDACK
Regular price
$1,058.00 USD
Regular price
$1,178.00 USD
Sale price
$1,058.00 USD
Unit price
per
Sale
Sold out
We have 1 in stock
ADIRONDACK

Designed like the traditional Adirondack pack canoes this solo boat is a great choice for those looking for a lightweight solo canoe that is small and lightweight, but still offers great performance and durability.
Made of the revolutionary T-Formex material this boat is indestructible and will last long after most lightweight boats fall apart.
Paddled with either a traditional canoe or double-bladed kayak paddle the boat is both efficient and maneuverable and the open cockpit makes it more comfortable than recreational kayaks especially when accessing gear or paddling with pets.
Whether paddling on remote ponds and rivers or accessing that secret hidden fishing spots, this boat will offer years of adventures and explorations and will not break your back when loading on the car and heading home.
TECHNICAL SPECIFICATIONS
Length : 12'
Width : 31.5"
Depth : 13''
Weight : 19 kg (42 lbs)
Colors : Green, Sand, Camo
Style : Pack Canoe Hull
Material : T Formex


T-FORMEX
T-Formex is a high tech laminated material consisting of an ABS foam core, ABS sheets, and a protective outer plastic skin. Its resistance to abrasion and heavy impacts make it an excellent material for recreational, whitewater, and expedition canoes. Once heated and molded, T-Formex sheets form a hull that has an unmatched structural memory. So even after being folded around a rock, an Esquif T-Formex canoe will return to its original shape with minimal distortion. Stronger than fibreglass and lighter than polyethylene, T-Formex gives Esquif's designers a material with superior characteristics.
REVIEWS
WILLIAM F.
⭐⭐⭐⭐⭐
The Adirondack is a great solo canoe in general. It can do most of the things a fishing kayak can do (fishing while standing up can be a challenge, but is possible in this boat), while being easy to car top and portage. I hadded a removable portaging yoke for longer portage, as well as a rear thwart with rod holders for fishing. A milk crate for carrying other fishing gear fits perfeclty behind the rear thwart and is still easily accessible from the seat. I chose the camo color and I do not regret it. The color is beautiful and it stands out beside other canoes. There is plenty of space to carry gear for multiple days canoe-camping trip. The boat capacity might not be rated in the specs, but it can take a lot while still being easy to paddle. The T-Formex material is tough and easy to wash. It feels like this thing could never break. My boat is a little heavier than advertised (even without the fishing mods), at around 43 pounds but I'm ok with it, since it is more solid than a lighter kevlar canoe for exemple. Other than that, the canoe is stable and the seat is really comfortable (there is a small bending in the front side of the seat that makes it both comfortable for sitting or kneeling). I paddle it mostly with a double bladed kayak paddle, which makes faster and easier to steer than with a single blade canoe paddle. Since it is short, it is easy to maneuver, but even if the small keel does help for tracking, it does not seem as easy to paddle with a single blade as the Esquif Echo (14 ft solo) for exemple. Overall, an excellent canoe: durable, stable, relatively light. Perfect for fishing, camping or for recreational use. I recommend it.
***Store pickup or Local Delivery available up to 80km from Gatineau for $80.
Share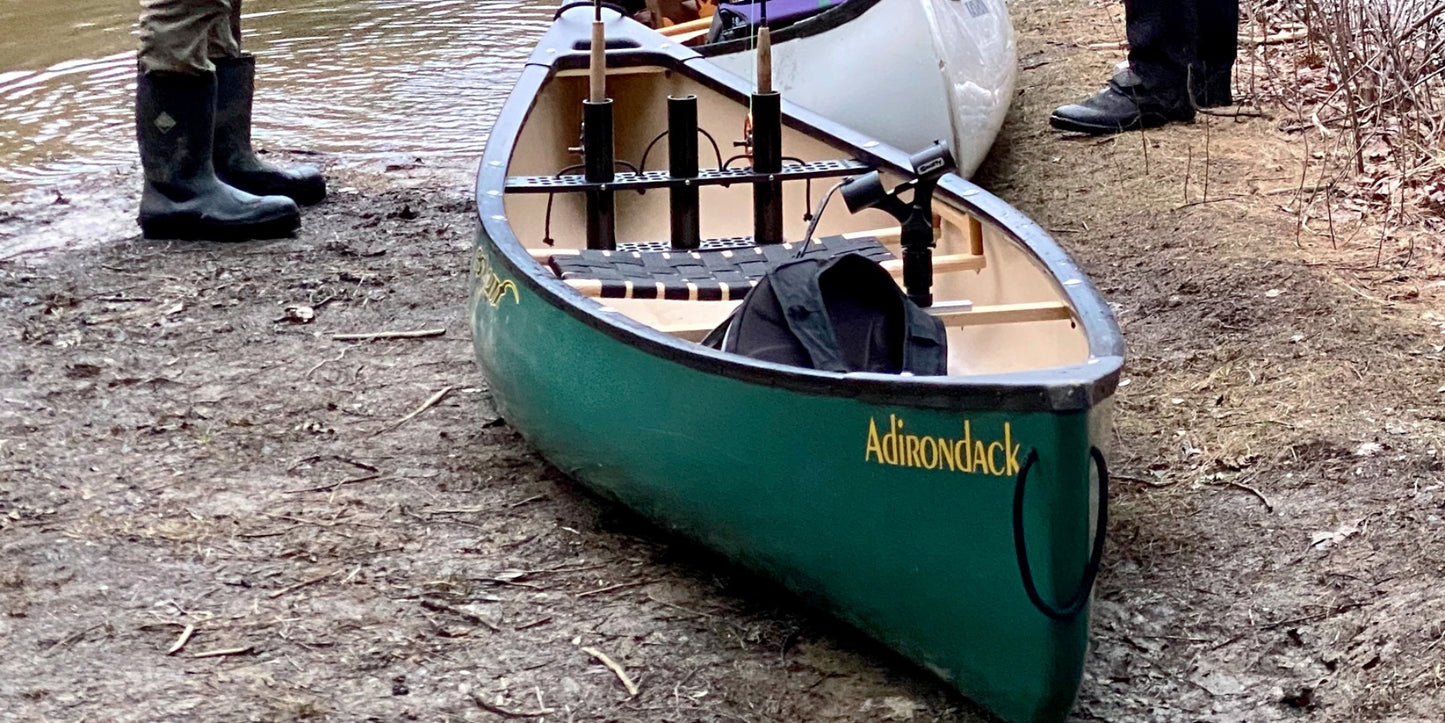 Don't miss the wave! Fill out our contact form now and secure your dream Esquif canoe today – unforgettable adventures await!